EDITED ON JANUARY 19, 2023:
Due to an error in processing, the 2022 graduating seniors were not included in the original upload for P-EBT eligibility. Because of this error, the $391 benefits were not issued on or around December 20, 2022 when the other benefits were processed for Valdosta City Schools' students. This error has been corrected and the names and ID numbers have been accurately reported so that their benefits can be processed quickly.
If your family currently receives SNAP, the P-EBT benefits will be automatically issued to your current EBT card. If you do not currently receive SNAP, the $391 will be loaded on the previous P-EBT card received from the 2020-21 school year. If the student was not enrolled in VCS in 2020-21 but was enrolled during the 2021-22 school year, a new P-EBT card will be mailed to the address on file with VCS within four weeks.
If you still have questions, please refer to the Summer 2022 P-EBT Benefits FAQ page. Valdosta City Schools cannot issue cards, replace stolen or misplaced cards or verify benefit amounts. Please call 1-888-421-3281 if you need that type of assistance.
---
The Georgia Department of Human Services recently released updated information about the state's Pandemic EBT program. Most notable is the following:
Additionally, in October 2022, the Food and Nutrition Service (FNS) approved Georgia for P-EBT continuation for SNAP-enrolled children ages 0-5 and 5 who turned 6 during the 2021-22 school year, as well as K-12 students who were determined individually eligible for free or reduced lunch at a National School Lunch Program (NSLP) school. Both eligible categories, including children 0-5 and 5 who turned 6 during the school year and K-12 students, will get a one- time benefit issuance of $391 in December of 2022 to cover the time period of summer 2022. The issuance schedule will be posted later this year, with no individual receiving more than one benefit.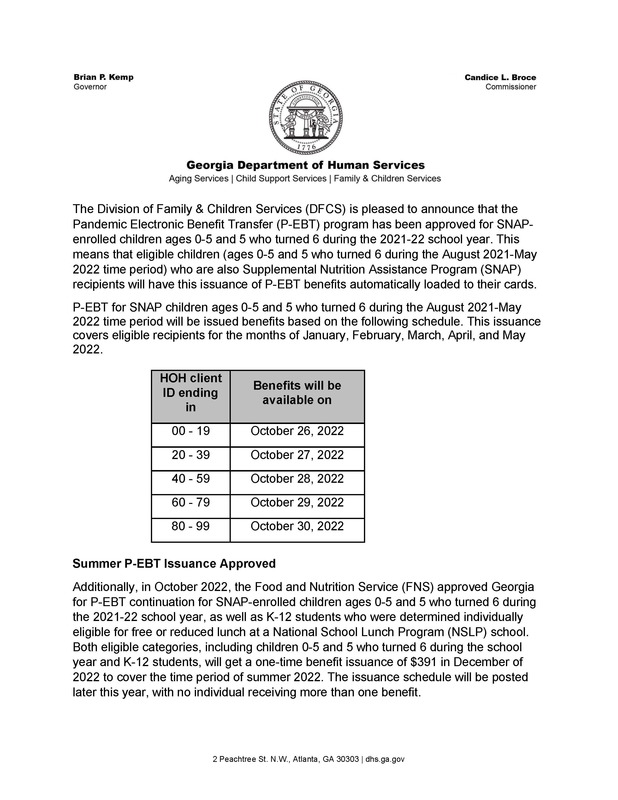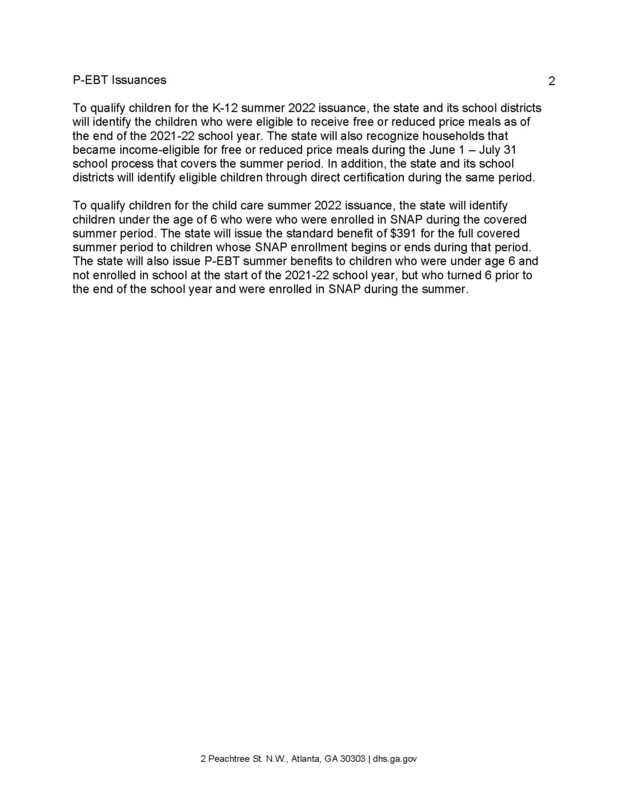 Valdosta City Schools does NOT handle the disbursement of funds nor do we determine individual eligibility. For specific questions, please call 1-888-421-3281.